Pelletizing is a processing which requires not ring die pellet mill but various kind of pellet mill equipments. The pellet mill equipments include pellet mill, crusher/hammer mill, dryer, cooler, packing machine and kinds of conveyors. It will be the complete wood pellet producing plant with main machine ring die pellet mill.
Ring Die Pellet Mill
The capacity ranges from 200 kg/s to 3 tons per hour. It is widely used for processing wood, straw and other biomass materials. It features in high performance, low cost, long life and easy maintenance. The key parts are made of alloy steel. And the die is made of stainless steel.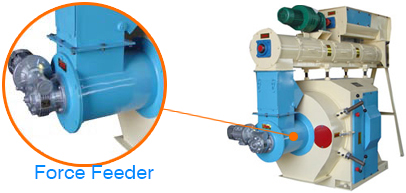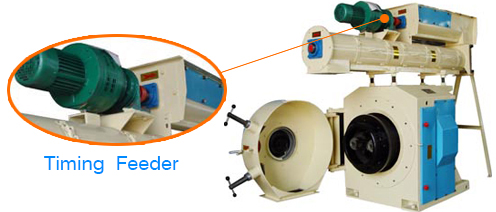 Technical parameters:
Model
Main motor
power(Kw)
Capacity(t/h)
Feeding motor
power(Kw)
Conditioner motor
power(Kw)
Diameter of
die(mm)
Pellet diameter
(mm)
KMPM25
7.5*2
0.2-0.3
0.75-0.55
2.2
250
4-8
KMPM32
37
0.3-0.6
0.75-0.55
2.2
320
4-8
KMPM35
55
0.5-0.8
0.75-0.75
2.2
350
4-8
KMPM40
75
0.7-1.1
1.5+0.75
2.2
400
4-8
KMPM42
110
1.0-1.5
1.5+0.75
5.5
420
4-8
KMPM508
132/160
2.0-3.0
1.5+0.75
7.5
508
4-8

Some Details of Other Pellet Mill Equipments
Our company can provide single pellet mill equipment for your complete pellet mill line. If the size and moisture of your raw material is changeable, the pellet equipments are necessary in the wood pellet plant. Moreover, these machines also can make higher quality wood pellet comparing to one unit wood pellet mill only. Since the crusher and dryer can make the size and moisture of your raw material evenly and most suitable for further pelletizing.
All these pellet equipments have some models which can be chosen according to the character of your raw material. And also for the conveyors, it also can be designed according to the size of your workshop.
The hammer mill is a machine whose purpose is to crush materials by the collision between the high-speed hammer and materials. It is suitable for milling raw material like tree branch, cotton stalk, corn stalk, wheat straw etc. with size less than 50mm (diameter). After milled, the output size can reach diameter 3-5 mm, then it is suitable for further processing.
The fundamental theory is simple. A hammer mill is actually a steel drum consists of a vertical or horizontal rotating shaft or drum on which hammers are mounted. The hammers swing on the ends of the cross freely, or fixed to the central rotor. The rotor is spun at a high speed inside the drum while material is fed right into a feed hopper. The material is impacted by the hammer bars and is thereby shredded and expelled through screens in the run of a selected size.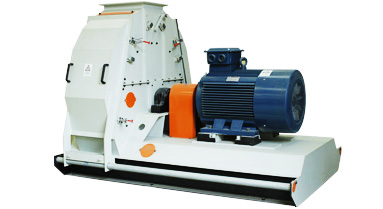 Tear-Shaped Vibrating Hammer Mill

| Model | MFSP56*60 | MFSP70*60 | MFSP66*80 |
| --- | --- | --- | --- |
| Powder(Kw) | 37 | 75 | 90 |
| Capacity(f/h) | 1 | 2 | 2.5 |
The rotary dryer is used to reduce the moisture content of the raw materials before pelletization. The machine is designed to work continuously and automatically, and includes a rotary dryer, screw feeder, cyclone air system, air lock and fan.
The wet material enters the dryer through the feeder in controlled quantities. A rake inside the cylinder distributes the material uniformly in the dryer for maximum exposure to the current of hot air. After traversing the length of the dryer the material is discharged through a star valve at the end with the perfect moisture content.
The rotary dryer may also require a hot blast stove as a source of hot air. The stoves fuels can be the same biomass materials—wood, wood pellets, straw, etc.—bound for pelletization.
Technical parameters:
Model
Diameter
(mm)
Length(m)
Power(kw)
Speed of
rotation
(r/min)
HZG6
600
 4、5、6、7、8
3-3.5
3-20
adjustmen
HZG8
800
 4、5、6、7、8、9、10
5.5-7.5
HZG10
1000
 6、7、8、9、10、11、12
5.5-7.5
HZG12
1200
 6、8、9、10、11、12
7.5-11
HZG15
1500
 8、10、12、14、16、18
11-15
HZG18
1800
 8、10、12、14、16、18、20
15-18.5
HZG22
2200
 10、12、14、16、18、20、22、25
18.5-22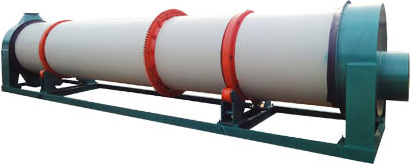 Technical parameters:
Item(m)
Capacity(t/h)
Speed of
rotation
(r/min)
Motor power
(kw)
Angle
(degree)
Temp of
final
f1.0x5.0
0.5-1.2
0.6-6
4
3-5
=1.5%
f1.2x6-10
1.5-3
0.6-6
5.5
3-5
=1.5%
f1.5x12-18
3-3.5
0.6-6
15
3-5
=1.5%
f1.8x12-18
5-6.5
0.6-6
18
3-5
=1.5%
f2.2x12-22
7-12
0.6-6
22
3-5
=1.5%
f2.4x15-20
9-15
0.6-6
30
3-5
=1.5%
f3.0x25
16
0.6-6
55
3-5
=1.5%
Our counter flow cooler adopts the advanced international counter-flow cooling technology, which make pellets cool full and uniform. Unique slide valve discharging mechanism makes nesting smooth and reliable operation. After cooling, the pellets temperature is no more than room temperature 3 ℃ -5 ℃, and the precipitation rate is not less than 3% -3.5%. The temperature must be quickly cooled down, and the moisture content must be reduced to less than 12 percent for storage and handling. Our cooler can manage both of these processes simultaneously.
Technical Parameters of SKLN Series Counterflow Cooler

| | | | |
| --- | --- | --- | --- |
| Model | SKLN 14 | SKLN 19 | SKLN 22 |
| Cooling Volume (m3) | 2.5 | 5 | 8 |
| Output (t/h) | 1-2 | 3-5 | 6-8 |
| Air-absorbed (m3/h) | 10000 | 15000 | 27000 |
| Power (kw) | 3 | 3 | 2.5+1.5 |
Packing is the final process in pellet production. This automated machinery is comprised of storage bins and a sealing machine. The computerized system weighs the finished pellets before sealing, then discharging the bags. A conveyor moves the bags for storage at the desired location.
This is an automatic bagging machine. It is composed of a quantitative packing electronic scale, a hemming machine and a conveyor heat-sealing machine. The quantitative packing electronic scale includes feeding part, filling part, and weight control meter systems.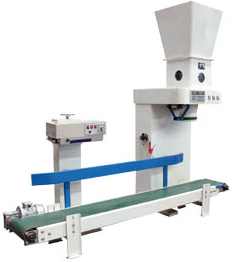 While these pellet mill equipments will release greatest potential in the complete wood pellet line. The complete wood pellet line is combined with process as pulverizing, drying, pelletizing, cooling and packing. We provide wood pellet plants which are tailor-made, economical, efficient solution with latest technology.
Henan Kingman M&E Complete Plant Co.,Ltd
Add:
Suite E, 3/F, Jinhao Business Bld., Renmin Rd. Anyang, Henan, P.R.C
Tel:
0086 372 5953961
FAX:
0086 372 5951936
E-mail:
info@pelletmillequipments.com